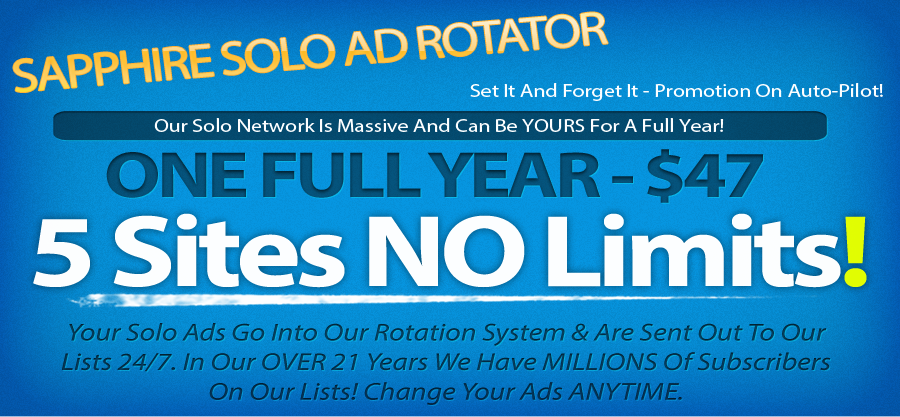 That's Right -- YOU GET ONE FULL YEAR OF Solo eMail Advertising Traffic TO 5 SITES! ONE TIME FEE!
Order NOW and GET The ONE Year Special.
We even run YOUR URLs in our Worldprofit Member Area!

Normally this is a 3 month package but to to fill limited spots we are offering this incredible package!

NOTE: 2 order limit per customer and ONLY offered on this special order page!

COST: $47 ONE TIME PAYMENT

**After you place the order please check your email for instructions on how to enter your URLs.

*If you are a current Worldprofit Silver/Platinum or Associate Member please login to order.
DON'T USE THIS FORM.
Visit http://worldprofit.com/members to login.
---
CURRENT Solo Ad Subscriber Lists Include (List sizes shown are approximate since they vary constantly)
We send out solos with every mailing we do and will clearly identify them as being in the Sapphire Ad Gallery. We will pick 5-10 solos for each mailing based on the least views to keep the clicks as even as possible throughout the year. The views will be tracked with invisible images at the bottom of the emails. Each time a message is opened it will count as a view to that particular solo ad. There is no charge or limit on your views or clicks for the duration of the ad. No extra costs ever! Finally, we are members of OVER 50 Top Safelists and Exchanges on the Internet so plan to promote the Sapphire Solo Ads Gallery, which will include your ads and links, so that we can generate leads and clicks to the ads from email advertising.
Core Membership Lists

---

Worldprofit Associate Active Members List:

425,000


Worldprofit Marketplace:

91,000


Worldprofit Social:

4,700


aWeber/getResponse:

42,000 Subscribers


External Lists (Mailings are done to Solo Contact Emails)

---

Quantum Safelist:

18,000


Dragon Safelist:

18,000


Safelist eXtreme:

22,700


Traffic Center:

28,000